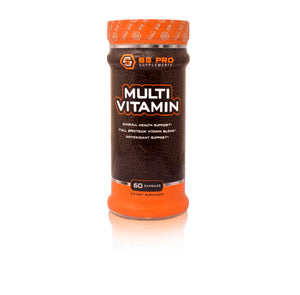 MULTI VITAMIN
Regular price $59.99 Sale
Have you ever noticed that talking about dieting or calorie-restriction is like a beacon for some nutritionist or dietitian to swoop in and remind you all about how foods have vitamins and minerals and how multivitamins "just aren't the same?" Have you also noticed that people who make a big deal out of vitamins and minerals from food sources also tend to be overweight? That's because these individuals have overemphasized the micronutrients relative to the macronutrients and calories. Of course vitamins and minerals are very important, but it's not exactly difficult to see the error in justifying eating pizza solely because it has B vitamins in the crust. Multi Vitamin is a better way.
• Micronutrients – A full spectrum of vitamins and minerals to optimize health and keep the body in tip-top condition.
• Fruits & Greens Whole Food Complex – Packed chock full of phytonutrients to get you all the benefits of the whole plant, not just the vitamins and minerals.
• Antioxidant Complex – Free radicals wreak havoc in the body. Ingredients like MSM, Green Tea, and Grape Seed stop them dead in their tracks.
• Advanced Enzyme Blend – A specialized mixture of enzymes facilitate the proper digestion of foods to help get more nutrients out of the digestive tract and into the body!
Whole foods have tons of benefits, but the notion that vitamins and minerals from food are better than from a multivitamin is hogwash. They are the same, but food has OTHER stuff. In every case, calories are present, but things like phytonutrients are beneficial and found in vegetables, so MSI has added those to Multi vitamin as well! Long story short, Multi Vitamin has all of what you need and none of what you don't!
*These statements have not been evaluated by the Food and Drug Administration. This product is not intended to diagnose, treat, cure, or prevent any disease.